Annual Recital
Los Angeles Ballet Academy is pleased to announce our
2023 Spring Performances at the Soraya's
Plaza del Sol Performance Hall on June 10, 2023.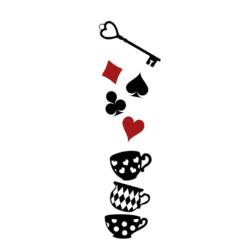 MIXED SHOW
"Through the Looking Glass"
June 10th @ 2:00pm
Featuring all PBJ, Contemporary, and Jazz classes
BALLET SHOW
"Alice in Wonderland"
June 10th @ 7:00pm
Featuring all Classical Ballet classes from Grade 1 Foundation thru Grade 5, Intermediate Foundation thru Advance 2, ISTD, and Open Classical Foundation
All Los Angeles Ballet Academy students are invited to participate in our annual Spring Performances,
where our students will have the opportunity to celebrate and showcase the skills learned during the Academy year.
The deadline to sign up for this year's recital is Tuesday, February 28, 2023.
Please carefully read the following information before submitting your student's registration form:
eligibility
participation requirements
To participate in the recital, a student's studio account must be current and in good standing.

Regular rehearsals for the recital will take place at LABA during regularly scheduled class time(s). However, additional rehearsals for some roles and/or routines may be need to be scheduled outside of regular class time. Students are expected to be available to attend such rehearsals. We will do our best to email students' families notices as far in advance as possible, as well as have these extra rehearsals clearly marked on the studio's calendar.

Students who have excessive absences from class(es) and/or scheduled rehearsals may be asked to step down from participating in the recital.

In the week leading up to the performance, rehearsals will move to the Soraya's Plaza del Sol Performance Hall.

ATTENDANCE FOR TECH AND DRESS REHEARSALS DURING THIS WEEK ARE MANDATORY. Any student who does not attend dress rehearsal will NOT be permitted to perform in the recital.
RECITAL FEES
This year's participation fee includes (1) costume and (1) commemorative production t-shirt.
$325.00 for one show (Ballet or Mixed)

$375.00 for BOTH shows
register by February 9th to receive an Early Bird Discount!
ADDITIONAL COSTUMES
For students who are cast in additional role(s) for the Ballet Show and/or perform with multiple classes for the Mixed Show, Additional Costuming Fee(s) will apply.
PAYMENT OPTIONS
LABA offers 2 different payment options:
PAYMENT IN FULL (March 1st)

2-PAYMENT INSTALLMENTS (March 1st & 31st)
If you would like to pay your recital fees using an alternate payment method (i.e. cash, check, or credit card different from the one on file), please contact the studio no later than (5) business days before the scheduled payment date(s) to make arrangements.
TICKETS
LABA families will be able to purchase tickets directly from The Soraya, either online, by phone, or at the box office, ahead of the general public. More information regarding tickets will be shared at a later date.
AT THE THEATER
For the safety and security of our students, the rehearsals at the Plaza del Sol will be closed rehearsals. Parents must sign their students in at the start of rehearsal and sign them out at the end of rehearsal. NO ONE WITHOUT A PASS WILL BE PERMITTED BACK STAGE.
If your child cannot stay without a parent or guardian present, please reconsider signing them up for the recital.
REFUNDS + CANCELLATIONS
Participation fees, including fee(s) for additional costume(s) are NON-REFUNDABLE once a student is registered to perform. In the event of extenuating circumstances, please contact the Front Desk for assistance.
Recital Show Packets containing more detailed rehearsal schedule, costume and attire information, and other helpful information will be emailed to students after registration closes.
our littlest dancers
special consideration
We plan in a special way for the care and supervision of our PBJ dancers. In addition to their teachers, the children will have teaching assistants, team members, and adult chaperones to supervise and help with costume changes, entrances and exits on to and off the stage, as well as their overall safety and care.
Because of fire codes, and more importantly, the Soraya's COVID policies, PBJ parents will NOT be permitted to accompany their child back stage or remain with them.
Therefore, if your child is unable to stay backstage for dress rehearsal without a parent or guardian present, please do not sign them up.
The deadline to sign up for this year's recital is
TUESDAY, FEBRUARY 28, 2023.